07/10/2016
Aspetar Young Investigators' Award at 34th FIMS World Congress of Sports Medicine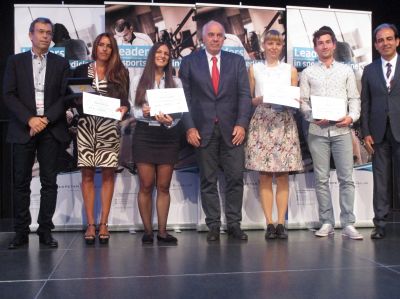 As a first in the history of the FIMS World Congress, FIMS together with Aspetar decided to create a total of four Young Investigator Awards for the Best Poster and Free Communications. The purpose was to encourage young competitive scientists to display outstanding presentations of their work during the FIMS2016 Congress.

The winners in the two categories were to receive a Certificate and an award (500 Euros). Colleagues who wanted to participate had to fill the application form during their registration for the congress. The applicants were required to be under the age of 40.
For both posters and free communications, the awards were presented in two categories:
1) Traumatology, orthopaedics, physical medicine and sports rehabilitation
2) Sports medicine, internal medicine, sports cardiology, exercise physiology, biomechanics, nutrition etc.

A joint Aspetar and FIMS Aspetar Young Investigator Awards Committee composed of five experienced scientists and clinicians then independently evaluated the presentations using standardised assessment templates. Their evaluations turned out to be rather unambiguous and the winners were easily identified, testifying to the quality of their work:
Best Oral Presentations
Luka Vitez - SELF-REPORTED RUNNING INJURIES IN THE PARTICIPANTS OF LJUBLJANA MARATHON
Tijana Durmic - ACE AND ACTN3 GENES POLYMORPHISMS AMONG ELITE MALE SERBIAN ATHLETES
Best Poster Presentation
Myosotis Massidda - ACTN3 R577X POLYMORPHISM IS ASSOCIATED WITH THE INCIDENCE
Antonia Karanikolou - THE DETECTION OF AUTOLOGOUS BLOOD TRANSFUSION USING WHOLE-GENOME EXPRESSION: A PILOT STUDY
The presentation of the Young Investigator Awards took place during the closing ceremony fo the congress.