16/12/2015
Austrian Institute of Sports Medicine becomes sixth "Olympia Center" in the country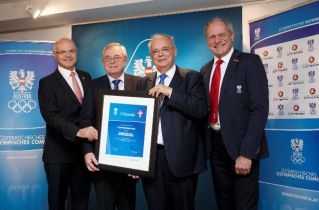 The Austrian Olympic Committee has awarded the Austrian Institute of Sports Medicine, one of the first FIMS Collaborating Centres of Sports Medicine and the Centre of Sports Sciences at the University of Vienna with the title "Olympia Center". With this new nomination, there are now six "Olympia Centers" in Austria. The purpose is to provide a comprehensive network of scientific and medical centres for all Olympic athletes under the umbrella of the Austrian Olympic Committee.
"We want to create training and medical care conditions for our elite athletes that meet the highest international standards", declared the Austrian Olympic Committee President Dr Karl Stoss on occasion of the official signing ceremony.
The approach follows a longstanding tradition in Austria where science and sport have built a strong partnership, offering national elite athletes access to the knowledge and evidence base that accumulated at universities when preparing for competition.
FIMS General Secretary Prof. Norbert Bachl, who leads the Austrian Institute of Sports Medicine and FIMS CCSM, underlined: "Developing specific training modules and planning training schedules has become a more and more complex task, as has the sports medical care of athletes. Without a sound scientific background, the chances for Olympic medals are minimal nowadays."
Close and intense collaboration among the different Olympic Centers is seen as an indispensable precondition for success and results. Being part of this close-knit national network will only benefit the Institute in its role as a member of the FIMS CCSM network. FIMS congratulate the Austrian Institute of Sports Medicine to this achievement.