04/11/2014
BREAKING NEWS
FIRST MEETING OF THE NEW ELECTED EXECUTIVE COMMITTEE OF THE INTERNATIONAL FEDERATION OF SPORTS MEDICINE AT THE IOC HEADQUARTERS
The first meeting of the new elected Executive Committee of the International Federation of Sports Medicine (FIMS) with 2014-2018 mandate met at the IOC Headquarters in Lausanne on the 4th November 2014. The Executive Committee meeting was opened by the IOC President, Dr. Thomas Bach, in the presence of Prof. Ugur Erdener, Chairman of the IOC Medical Commission and Dr. Richard Budgett, IOC Medical and Scientific Director.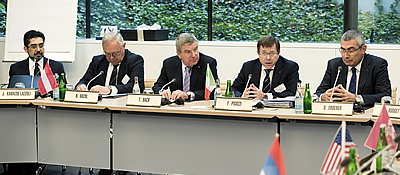 After thanking the IOC President for his generous hospitality, Prof. Pigozzi underlined the need for strong cooperation between the IOC and FIMS and reiterated FIMS commitment to protecting the health of the athlete in terms of science and education. Further evidence of this commitment was the announcement by Prof. Pigozzi of the Official Opening of the Brighton Collaborating Centre for Anti-doping Research scheduled for 13th November 2014. Prof. Pigozzi thanked the Chairman of the Medical Commission for agreeing to be present at this FIMS celebratory event.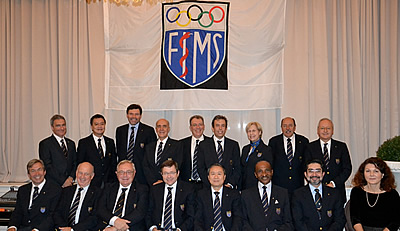 After a short FIMS promotional video, President Bach welcomed Prof. Fabio Pigozzi and all the members of the FIMS Executive Committee and thanked FIMS for their valued contribution. The importance of cooperation between the FIMS and the IOC Medical Commissions was also declared. President Bach also stressed the need for greater focus on the protection of the clean athlete.