14/04/2022
MEMBERSHIP NEWS AND INFORMATION
---

---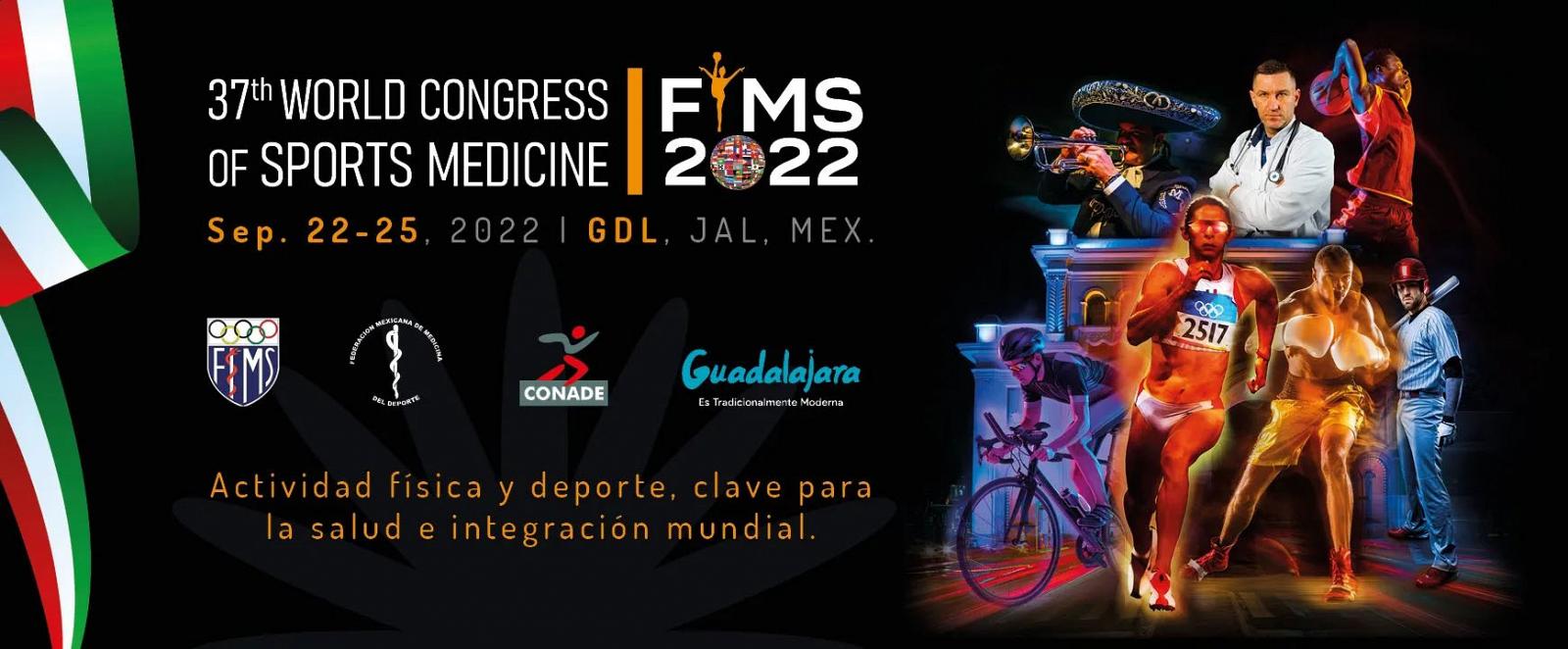 FIMS Conference 2022 - #FIMSconf37MX
We are excited to begin our Spring E-Circular with great news........
A FIMS delegation led by its President, Professor Fabio Pigozzi and comprising Professor Yannis Pitsiladis, Chair of the Scientific Commission, and FIMS Treasurer, Professor José Kawazoe Lazzoli, visited Guadalajara, Mexico on 23-24 March 2022, to plan the 37th FIMS World Congress, scheduled for 22-25 September in Guadalajara, Mexico. A press conference held at the end of the meeting was attended by the Olympian Ana Gabriela Guevara Director General of the  Comisión Nacional de Cultura Física y Deporte CONADE, by Dr Raul Carrillo Medical Director, and by Dr  Felipe  Gomez Ballesteros President of the Mexican Federation of Sports Medicine FEMMEDE.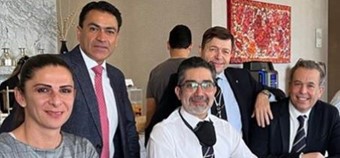 Meeting of FIMS with Olympian Ana Gabriela Guevara and Dr Raul Carrillo, Mexico Sports Ministry Medical Director to plan the next FIMS World Congress in Guadalajara, Mexico in September 2022
Watch the conference video here: https://fb.watch/bYoJf8K6hY/

The FIMS World Congress promises to deliver an exceptional scientific and social programme with over 100 international speakers confirmed. We are delighted to announce our keynote speakers:
Evert Verhagen
Ioannis Vogiatzis
Jose Calbet
Ronald Maughan
Angelo D'Alessandro
Jane Seto
---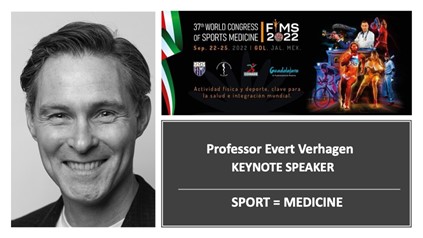 Professor Evert Verhagen
Professor of Epidemiology, Editor in Chief of BMJ Open Sport & Exercise Medicine. Director of the Amsterdam Institute of Sport Sciences, Holland.
---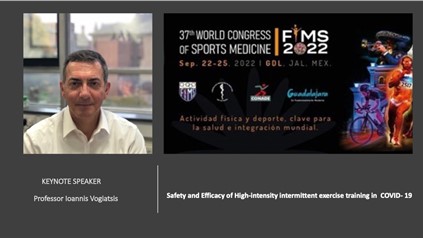 Professor Ioannis Vogiatzis Ph.D. FERS 
Professor of Rehabilitation Sciences, Department of Sport, Exercise and Rehabilitation, Faculty of Health and Life Sciences. Lead, Multidisciplinary Research Theme (MDRT) on Integrated Health & Social
---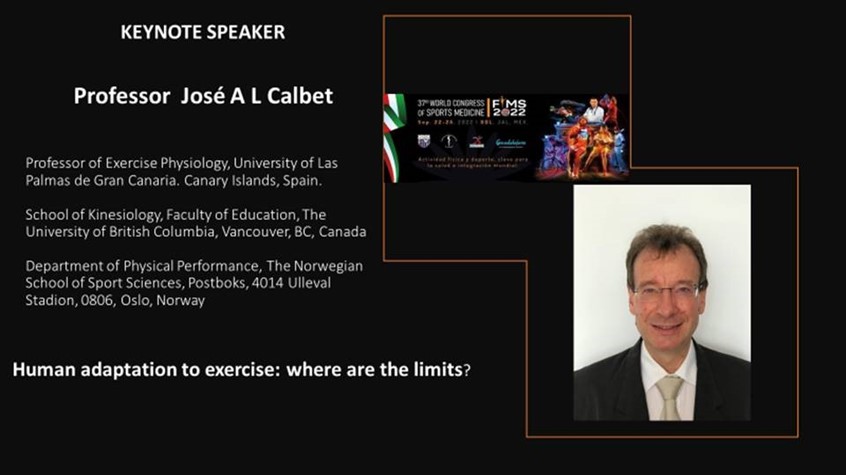 Professor Jose A L Calbet
Professor of Exercise Physiology, University of Las Palmas de Gran Canaria. School of Kinesiology, Faculty of Education, The University of British Columbia. Department of Physical Performance, The Norwegian School of Sport Sciences.
---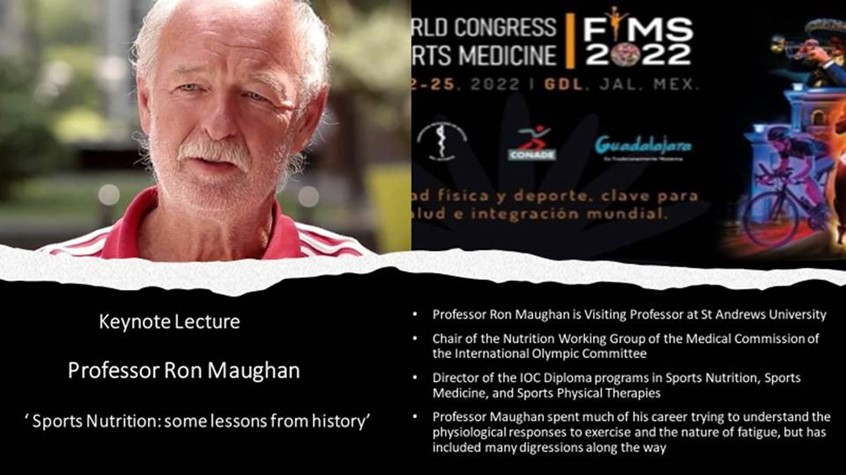 Professor Ron Maughan
Visiting Professor at St Andrew's University. Chair of the Nutrition Working Group of the Medical Commission of the International Olympic Committee. Director of the IOC Diploma Programme in Sports Nutrition, Sports Medicine and Sports Physical Therapies.
---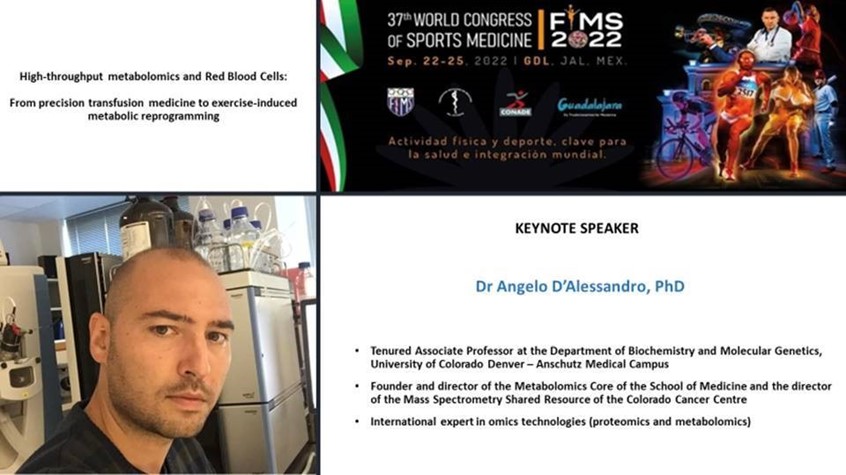 Dr Angelo D'Alessandro
Associate Professor at the Department of Biochemistry and Molecular Genetics, University of Colorado Denver. Founder and Director of the Metabolomics Core of the School of Medicine. Director of the Mass Spectrometry Shared Resource of the Colorado Cancer Centre.
---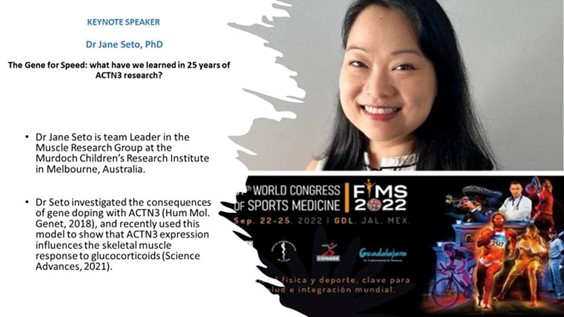 Dr Jane Seto
Team Leader in the Muscle Research Group at the Murdoch Children's Research Institute in Melbourne, Australia.
---
More details to follow soon at  https://fimsmexico2022.com

---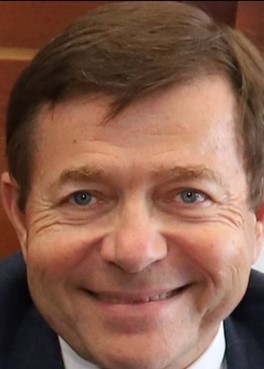 Hear our President's, Professor Fabio Pigozzi, introduction to the FIMS Conference

---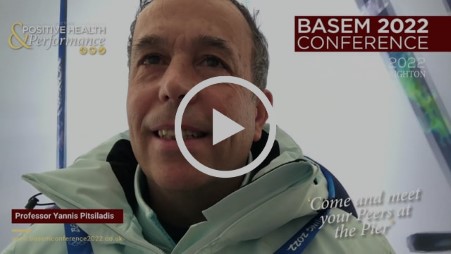 ---
FIMS Governance is meeting regularly to discuss the content of the 37th World Congress, the next stop being Brighton in May 2022 where Professor Pitsiladis is Chairing the BASEM Annual Conference which will host the Council of Delegates of the European Federation of Sports Medicine Associations.
One of the many highlights of the Brighton Conference will be the FIMS session chaired by Professors Norbert Bachl and Yannis Pitsiladis entitled Transgender and DSD Athletes in Elite Sport: Inclusion, Fairness and Safety, which will be also an opportunity to discuss the joint FIMS and EFSMA position statement recently published. For a full copy of the statement see: 
Full programme here:
https://bmjopensem.bmj.com/content/8/1/e001273.full
https://www.basemconference2022.co.uk/docs/ScientificProgramme.pdf 
---
Anti - Doping
A particular focus of the FIMS is on anti-doping. The Sport and Exercise Medicine (SEM) Community, should all be committed and determined to join forces with the shared aim to protect and promote a vision of clean and ethical sport and believe that improved education and research are key requirements for a successful anti-doping programme.
Dr Alan Vernec, Medical Director of the WADA and Coopted Member of the FIMS Executive Committee continuously advises us on all doping developments.
Dr Vernec informed us that there were significant changes to the 2022 Prohibited List regarding glucocorticoids as follows.
The World Anti-Doping Agency (WADA) has developed a Guidance Document on Glucocorticoids (GCs) and Therapeutic Use Exemptions (TUEs) in order to assist anti-doping stakeholders in their understanding of new rules regarding injectable routes of administration of GCs under the 2022 List of Prohibited Substances and Methods (List).
Since 1 January 2022, GCs are prohibited in-competition when administered by all injectable, oral, or rectal routes. Examples of injectable routes of administration include: intravenous, intramuscular, periarticular, intra-articular, peritendinous, intratendinous, epidural, intrathecal, intrabursal, intralesional (e.g. intrakeloid), intradermal, and subcutaneous.
As such, an athlete risks being sanctioned when a GC, its metabolites or markers are found to exceed the laboratory reporting levels in a urine sample collected in-competition.
In order to prevent such occurrences for GCs administered as part of a legitimate medical intervention, the Guidance Document provides information for athletes, support personnel, Anti-Doping Organizations and physicians on the following topics:
Glucocorticoids and the List of Prohibited Substances
Glucocorticoids and TUE applications
Washout periods following administration of glucocorticoids
When to apply for a TUE
How a TUE Committee would evaluate a glucocorticoid TUE application
In addition to this Guidance, WADA also published the following resources to assist physicians and athletes:
TUE Physician Guidelines for TUE Committees on how to evaluate TUE requests for glucocorticoids for different medical conditions
---
News from FIMS Continental, Member National Associations and Collaborating Centres of Sports Medicine
We are listening to your voices and sharing your activities and ideas
---
UAMS  promotes the African Academy of Sports Medicine and Sports Sciences
17th January 2022 - Cairo (EGY)
An African Academy of Sports Medicine and Sports Sciences has been created to serve the fields of culture, training, refinement, follow and publish all the innovations in the development of the sports system of sports medicine specialized in the Arab and African countries and integrate with the latest developments in this field at the international level.
The African Academy of Sports Medicine and Sports Sciences consists of three main participants: The African Union of Sports Medicine (UAMS), the Egyptian Ministry of Youth and Sports and Wadi El Nil Hospital ( one of the largest military hospitals in Egypt and which is an International Hospital). Prof. Dr. Constant Roux, President of UAMS and FIMS Vice President is the Chairman of the Academy Board and Dr. Khaled Massoud, Secretary General of UAMS is the Secretary General of the Academy.
The FIMS President Prof. Fabio Pigozzi attended virtually the opening of the first training course of the Academy on 17 January 2022.
Press Conference Video here:https://drive.google.com/file/d/1bck2PKvvpT5mpGNkoziDbxyWvpXBLb-X/view?invite=CKeIkuoB&ts=61f96c3f
---
FIMS Executive Committee Meeting in Rome 
Following the cancellation of the Executive Committee scheduled for June 9, 2022 in Kazan, Russia, the next meeting will take place in Rome on July 2, 2022 at 9:30 am, with the support the Italian Federation of Sports Medicine (FMSI) . A Conference on "Integration of athletes with a Difference in Sexual Development (DSD) and Transgender athletes in Olympic sport" will be organized on this occasion. 
---
A paper from Prof. Jean-Francois Kaux, Director of the CCSM in Liege
Exercise-Based Injury Prevention in High-Level and Professional Athletes: Narrative Review and Proposed Standing Operating Procedure for Future Lockdown – Like Contexts After COVID-19
Martens G, Delvaux F, Forthomme B, Kaux JF, Urhausen A, Bieuzen F, Leclerc S, Winkler L, Brocherie F, Nedelec M, Morales-Artacho AJ, Ruffault A, Macquet AC, Guilhem G, Hannouche D, Tscholl PM, Seil R, Edouard P, Croisier JL. Exercise-Based Injury Prevention in High-Level and Professional Athletes: Narrative Review and Proposed Standard Operating Procedure for Future Lockdown-Like Contexts After COVID-19. Front Sports Act Living. 2021 Dec 17;3:745765. Doi: 10.3389/fspor.2021.745765. PMID: 34977567; PMCID: PMC8718545.
In regular times, implementing exercise-based injury prevention programs into the training routine of high-level and professional athletes represents a key and challenging aspect to decrease injury risk. Barriers to implementing such prevention programs have previously been identified such as lack of resources, logistic, issues or motivation
Read full paper at: https://dx.doi.org/10.3389%2Ffspor.2021.745765 
---
The Libyan Sports Medicine Federation provided information on its
Professional Diploma in Sport Medicine, 2022
The Libyan Sports Medicine Federation in collaboration with the Department of Human resources of MOH and the Libyan Medical Board are delighted to have completed the third course of this Diploma in February 2022. They had a total of 22 candidates and the Faculty were all senior university staff.
The course is designed to help clinicians learn how to diagnose and manage common sports-related injuries and illnesses. It is designed specifically for primary care clinicians including doctors. No pre-existing sports medicine knowledge is required. The course is designed to be flexible, delivering two days each fortnight with a duration of 72 hours. The examination will be: 1- MCQs of 100 single answers, 2- Viva for half an hour.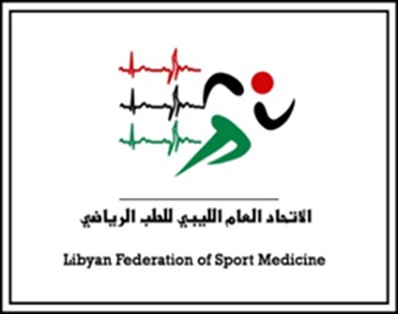 Kindly provided by Professor RASHED
---
Forthcoming Events
---
BASEM Annual Conference - 26 - 27 May 2022 Brighton, England

https://basem.co.uk/event/basem-2022-annual-conference/
---
Sports Medicine and health Summit 22 – 24 June 2023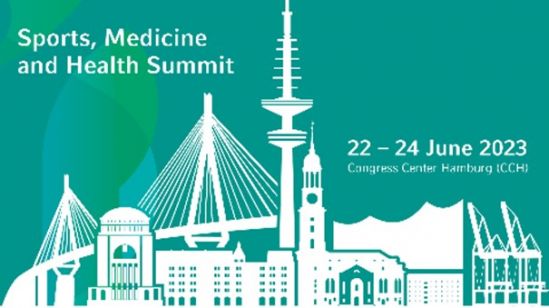 https://www.sports-medicine-health-summit.de/en
---
IFSEMC 2022
International Festival of Sports Exercise and Medicine Conference 29th September to 2nd October 2022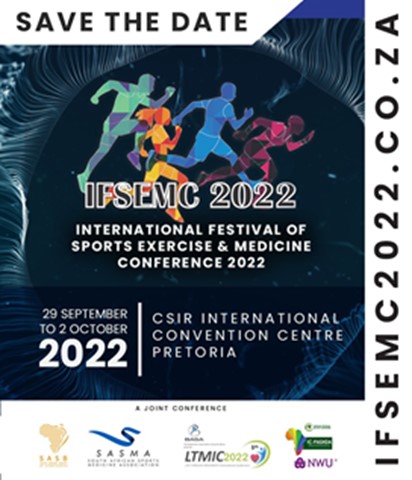 ---
Becoming a FIMS individual member through a block subscription by your FIMS National Association membership
Did you know you can also obtain FIMS individual membership status if you are an existing member of any FIMS National Association provided your National Association has made use of the block membership option of FIMS. The application process for FIMS Individual Membership status has been granted to all National Association members, where such a National Association has decided to subscribe all its members or a large subgroup of its members. This "National Association Membership" is offered at a very low cost per member per annum to such an association.
If you are not sure whether your National Association has made use of this option for you, please contact the Secretary or President of your National Association directly to enquire.
If your National Associations wishes to enquire about this option, the President or Secretary of your National Association should contact the FIMS Treasurer Dr José Kawazoe
Email administration@fims.org to receive the necessary application forms and further details. 
---
FACEBOOK and TWITTER
The FIMS dedicated Facebook page and Twitter Accounts are updated daily and include information about courses, conferences and other information which is relevant to the sports medicine community. Please follow us and grow the community resource by liking, sharing, and retweeting. Links at the bottom of the page.



---
Copyright © International Federation of Sports Medicine . All rights reserved.
 Want to change how you receive these emails?